Can Iraq Defuse the Tension between Tehran and Washington?
Interview with Mohammad Saleh Sedghian, head of Tehran-based think tank the Arab-Iranian Studies Centre.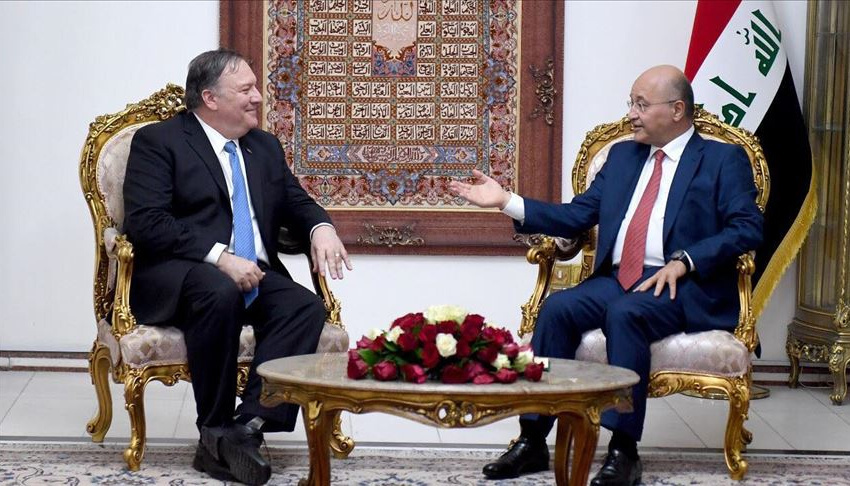 Statements by officials of Iraq's central government and remarks by political figures in Iraq reveal deep concerns among them over the continuing tensions between Iran and the United States. Why are Iraqis concerned about Tehran-Washington tensions? And is there any way Baghdad can help defuse the crisis? Iranian Diplomacy has interviewed Mohammad Saleh Sedghian, head of Tehran-based think tank the Arab-Iranian Studies Centre, about the position of Iraq in Iran-US tension:
IRD: Iraq seems more worried than other Middle East countries about the tension between Iran and the US. Why?
MS: Politically, economically, diplomatically, militarily, and security-wise, Iraq is seriously dependent on both Iran and the US. While Iran's influence is spread across the Middle East also in other countries such as Lebanon, Palestine, Syria, and Yemen, none are Iran's immediate neighbor like Iraq, and any developments in either of the neighbors leaves a deep impact on the other. Iraq can suffer heavy blows due to the rising tensions between Tehran and Washington.
The US is well aware of the strong bond between Tehran and Baghdad, and aims to disrupt this close relation. Recently, Deputy Secretary of the US Treasury made a visit to Iraq and met the Governor of the Central Bank of Iraq to discuss monetary relations between Tehran and Baghdad. White House is now focused even on details of Tehran-Baghdad relations, wielding all its leverage to maximize pressure on Iran, even making military threats.
IRD: We've heard news that White House is showing flexibility towards Baghdad regarding its energy and electricity purchases from Iraq. Does that mean US has decided to damage-control its tensions with Iran so it would not harm Iraq?
MS: If Iraq could find an alternative to Iran for its energy and electricity demands, the US would not have extended the sanctions relief. And don't forget that economic ties between Tehran and Baghdad are under severe pressure due to reimposition of US sanctions. The grace period for Iraq to replace Iran's energy and electricity resources are also coming to an end and White House is pressing Iraq to find alternatives to Iran's energy. Saudi Arabia and other regional countries are striving to replace Iran. So, there is no flexibility in White House policies. This is only a tactical measure against the realities of the moment.
IRD: With Baghdad's increasing worries over Tehran-Washington tensions, Iraqi political figures are also acting independently from the government to find a diplomatic solution to the tension. Is there hope that they solve the problem?
MS: Let me elaborate on this first: There are two major views towards the Iran-US tension in Iraq. One approach believes Iraq should not take sides in the tension between the two countries and should keep the balance, since tilting towards any party would could create a rift with the other side and be detrimental to Iraq's national interests.
The second approach favors siding with Iran because of the intertwined relations of the two countries and because Tehran backed Iraq during its fight against terrorism. A minor strand also believes that Iraq should favor the US as the stronger side in this conflict. But there is also a third approach which believes Iraq can neither follow a balance of powers approach, nor should support Iran against the United States, but it should follow a proactive diplomacy to help resolve the tension between Tehran and Washington and minimize any likely collateral damage on Iraq's interests.
I think Barham Salih, Iraq's president, can launch such a campaign. However, domestic political challenges are fettering the central government of Iraq from playing such a diplomatic role. So as I have suggested elsewhere, this diplomatic role should be played collectively by several Arab countries in the region, those who have friendly relations with both Iran and the US, such as Kuwait, Oman, and Jordan. Baghdad should form a regional, Iraq-centered front for mediation between Tehran and Washington.

However, Iraq has not proven the ability to muster domestic political forces nor the power to form an alliance with regional neighbors. Prime Minister Adil Abdul-Mahdi made a visit to Kuwait last week with this issue on the agenda but no tangible result has come out so far. Domestic differences have bogged down Iraq and failed the country to play a more serious role.
IRD: However, recently Iraqi PM Adil Abdul-Mahdi had proposed sending two diplomatic delegations to the US and Iran. Can we expect a serious outcome from this proposal?
MS: Let me emphasize once again that Iraq is not able to play a serious political role regarding the Iran-US tensions due to its domestic political strife. The struggle between Iran and the US has serious ramifications which Iraq cannot handle single-handedly. So we should not expect much from Iraqi PM's plan. Adil Abdul-Mahdi has decided several times to visit the US, but his request has been rejected by Washington. This means Washington wants tensions with Iran to continue.
IRD: So you believe that United States seek military confrontation with Iran and signals this with decisions such as oil companies pulling staff out of Iraq, military buildup and such?
MS: I don't think the US wants to pull the trigger against Iran. Washington only wants to increase pressure on Iran's close partners in the region and force them not to choose Tehran, or at least remain impartial in the Tehran-Washington standoff. That is why Iraq is bearing the brunt of Washington's pressures.
However, don't forget about the 'deal of the century'. I believe the US will pressure Iraq and other partners of Iran on the brink of unveiling the plan, which will probably take place after Ramadhan. So pressures will increase. Three upcoming events which are the Bahrain economic workshop (Peace for Prosperity), the Persian Gulf Cooperation Council summit, and the Organization of Islamic Cooperation meeting are all part of the diplomatic plans before unveiling the deal. The same holds true for US economic sanctions against Iran, blocking Iran's import of oil, designating the IRGC as a terrorist group, and dispatching aircraft carrier to the Persian Gulf. Trump and his son-in-law Jared Kushner are eager to finalize the deal of the century to use it as a card in the next US presidential election. So, we should expect further pressure against Iran.
* This piece was originally published in the Persian service of Iranian Diplomacy.