Where in the World Is Ghazanfar Roknabadi?
Two weeks after the Mina Stampede, the fate of Iran's former ambassador to Lebanon is yet to be established. Has Roknabadi been abducted?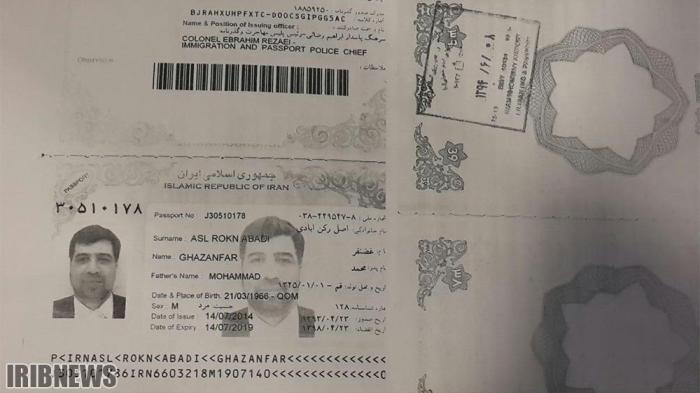 (Photo: Saudi officials claimed that Roknabadi has not entered the country. In response, Iran released a copy of his passport, bearing a stamp that showed his departure from Imam Khomeini International Airport./ IRIB News)
By: Davoud Heshmati
The story of Ghazanfar Roknabadi, Iran's former ambassador to Lebanon, is becoming increasingly complicated. His disappearance following the Mina Stampede bears critical importance.
Along with a number of IRGC members, Roknabadi is listed neither as dead nor as injured, not even after a number of pilgrims, among them the injured and the dead, were returned to Iran. This has reinforced speculations about the likely role of Saudi Arabia and Israeli intelligence services regarding his fate.
Diplomatic observers know how Iran's embassy in Beirut is important for a number of other countries. Israel, the United States and Saudi Arabia keep a watchful eye on Iran's embassy in Lebanon. During recent years, several terrorist attempts have targeted the embassy. Roknabadi survived the latest, but Iran's cultural attaché was not so lucky.
The untrue claims by Saudi officials that Roknabadi has traveled to Saudi Arabia with a different passport has made the story more complicated. Last Wednesday, the Deputy Minister of Culture stated : "in fact, we should not forget that fortunately, so far he has not been identified among the dead, and of course not among the injured. Assuming that those whose fate has not been established yet are those who have lost their lives, he has either passed away or is held captive by the Saudi security forces" (Mehr News Agency). A few days later, after groups of Iranian pilgrims returned to Iran, along with a number of dead bodies, the Deputy Foreign Minister for Arab and African Affairs Amir Abdollahian reminded of the unclear state of Roknabadi, and Iran's all-out efforts to establish his fate (ISNA, October 6, 2015).
During the first two days after the Mina Stampede, Iran tried to keep a low-profile on Roknabadi's situation. A true decision probably. Had the story leaked into the media, and Roknabadi was still alive (not a far-fetched possibility), he could have been promptly abducted by Saudi Arabian and Israeli intelligence services. Iran tried to put a lid on the story and search for him through its own links. But after these efforts did not bear tangible results, it decided to take the story to the media. Another correct move, since ensuing diplomatic pressures could to determine his fate.
The bulk of Iran's interactions with groups such as Hizbullah, Hamas and Ansarullah is conducted via its embassy in Lebanon. So it is clear why Roknabadi was an important target for the intelligence services of Saudi Arabia and Israel.
Hypotheses
Two hypotheses can be laid out on the story of Rokanabadi's disappearance (apologies to his family for being straightforward).
The first scenario presumes that the Mina Stampede was plotted with the goal to abduct Roknabadi. The perpetrators were aware of the consequences of their plan, but they welcomed open confrontation with Iran. Saudi Arabia and Israel have been the main losers against Iran's diplomacy during the last two years. Thus, they are trying to drag the country into an intense, if minimal, conflict that could pave the way for global consensus against Iran.
ISIS' defeat may have contributed to this scenario; that is, proxy wars against Iran have failed, hence the need to enter into a new phase of direct confrontation. In the meantime, Iran has shown no signs of backing down. Ayatollah Khamenei's strong remarks, veiled threats in fact, against Riyadh that were stated recently can give a hint of possible future developments.
The second scenario has two possibilities:
One) Roknabadi was found injured, and was then abducted. Saudi and Israeli services may have received reports that he has gone missing, and may have kidnapped him from the hospital. One can guess that in the chaotic situation that followed the stampede, the best opportunity was created for intelligence services to seize Iran's former ambassador to Beirut. Two) Roknabadi's body has been seized. If true, does it have any value for intelligence services? Yes. If alive, Roknabadi could be an asset for intelligence services; yet, even keeping his body and refusing to return it to Iran could put the country in an awkward situation. A similar story happened in case of Ali-Reza Asgari, a retired IRGC commander, whose body has not been returned to Iran [after his mysterious death in Israel.]
An important point: since 2013, security arraignments of the hajj ceremony are assigned to al-Majal. This company is a subsidiary of the multinational security service G4S that has been cooperating with the Saudi government since 2010. G4S has a record of supplying security services for prisons in Israel; and is accused of complicity in abuse of underage Palestinian prisoners. The Guardian also ran a detailed report on the group's operations in Israel in June 2014. Obviously, Israel does not assign such responsibilities to the first agency that comes through the door. In June 2014, pressures forced the company to announce its plans to end contracts with the Israeli government within the next three years.
Vanity Fair's report on G4S, titled "The Chaos Company", also included interesting details. Apparently, the security service takes helm wherever governments do not, or cannot, establish security: from African mines to British airports to American nuclear plants. The company boasts a staff three times larger than the UK army.
With this background, the second scenario sounds plausible. We should hope that Roknabadi and missing IRGC members do not meet a fate similar to that of Ali-Reza Asgari. One can also expect that upon the full evacuation of Iranian pilgrims from Saudi Arabia, Tehran and Riyadh enter a more intense confrontation.
Translated by: Ali Attaran
* This piece was originally published in Ghanoon daily on Wednesday October 7, 2015. Ghanoon ("The Law") is a Reformist newspaper.