Toleration with KSA, Cooperation with Pakistan, and Caution with Russia
Former IRGC commander Rahim-Safavi says Iran should take advantage of its geopolitical superiority in the region.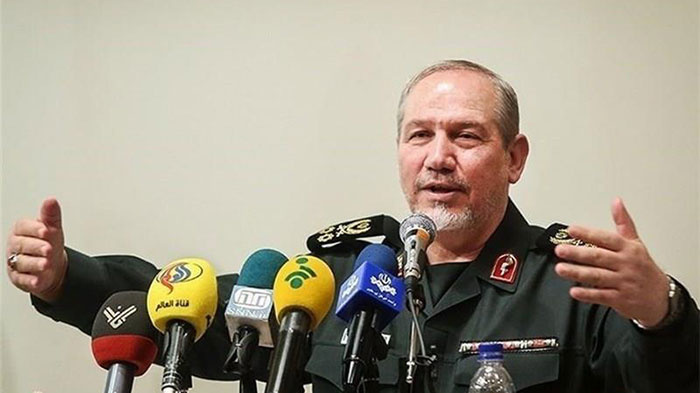 Brigadier General Yahya Rahim-Safavi, senior advisor to the Supreme Leader offers his own take on the geopolitical status of Iran vis-à-vis its neighbors in a speech made during a joint summit between the Institute of Islamic World Future Studies (IIWFS) and the Ministry of Foreign Affairs' Center for International Research and Education (CIRE). The summit was held three weeks ago but a transcription started to make the rounds in Persian media outlets on Tuesday. Below is a summary of the speech, based on the full text published on the Persian section of Iranian Diplomacy.
***
In the beginning, Rahim-Safavi makes it clear that his employment of the term 'geopolitics' concern the interworking of politics, power, and geography. He goes on to put Iran in six geopolitical zones, which include the Persian Gulf, the Gulf of Oman, Iranian Plateau, Central Asia, the Caspian Sea, and the Caucasus. A larger part of his speech is then dedicated to the demonstration of his belief that Iran has a political and geographical superiority in these zones.
Central Asia: Turkmenistan, Uzbekistan, Tajikistan, Kirghizstan, and Kazakhstan
As Rahim-Safavi puts it, these five countries, with a total population of over 62 million people, are landlocked, with no access to sea for the economic interactions. Thus, he notes, they should pass through their traditional corridor in Russia to export their raw materials including oil, gas, and cotton or choose to shift toward the Gulf of Oman and the Persian Gulf, where they will have two options. One way would be to go through Afghanistan and Pakistan, which brings about three problems, namely, the lack of stability and security, the non-existence of infrastructure as the two countries' railway system and pipelines are not connected, and the obligation to pay two transit tariffs. This makes the other path, Iran, a more economical option as its enjoys stability and security, connection of its gas and oil pipelines as well as its railroads to those of Turkmenistan's.
"They can export easily via Bandar Abbas. In the near future, when Chabahar railway is connected to Sarakhs and Turkmenistan, they will be able to export their oil, gas, and raw materials through Chabahar. Furthermore, when the Khorramshahr railway is connected to that of Basra, of which only 25 kilometers and a bridge remains incomplete, Central Asian countries can deliver their goods to the Mediterranean Sea by rail," he said.
Rahim-Safavi then proceeds to other facets that tip the scales down in favor of Iran, noting that shared language [Persian], civilization, and border have laid the grounds for good cooperation for Iran, which he implies, could culminate into a swap opportunity. "We can get their oil in the Caspian Sea and give them the same amount in the Persian Gulf". As Rahim-Safavi explains, an oil pipeline from Neka port located in the Caspian is connected to Tehran refinery and thus it will be more economical for Iran to take oil from Turkmenistan instead of pumping it from Ahwaz in southwestern that is further away.
Iranian Plateau: Afghanistan and Pakistan
Rahim-Safavi is on the belief that the two countries are now undergoing a geopolitical transition, yet to be established. He elaborates on how four international powers, the United States, Russia, China, and India, are involved in the two countries. Speaking of the potential for cooperation with Pakistan, Rahim-Safavi says there are six million Baluch people living in the Baluchistan province of Pakistan while Iran also has a Baluch population of two million. "Pakistani officials, like the president or the foreign minister, speak Persian when they visit Iran. Pakistanis have the same ideological interest we have in Karbala to Imam Reza [buried in Mashhad]," he says. However, Rahim-Safavi adds that Iran's collaborations with Pakistan have been weak. "The pipeline we built to Iranshahr, with the purpose of connection to Pakistan and India still remains unresolved, even though it can play a positive role as a peace line," he adds. Admitting the fact that Pakistan more readily works with the US, of all the trans-regional powers, and has closer political and economic ties with the Iran's regional rival, the Saudi Arabia, he says that Iran should pay more attention to Pakistan, because the latter originally separated from India over Islam; thus, Iran should try to maintain Islamism that was the foundation of Pakistan's independence in the first place.
The former IRGC commander declines to discuss Afghanistan but goes on to stress that Iran has long overlooked the zone. "Our railway system in connected to Pakistan's through Zahedan and could continue to India and even China," he says, pointing out the potential for favorable economic, political, and even military cooperation with Pakistan.
The Persian Gulf: Iraq, Kuwait, Saudi Arabia, Qatar, Bahrain, the United Arab Emirates, and Oman
Rahim-Safavi calls Saudi Arabia Iran's strategic rival in the zone. In their present status, they particularly seek tensions in mutual relations, controlled by the US or maybe Israel. "They are unhappy with increasing geopolitical weight of Iran and blame us for their defeats in Syria, Iraq, Lebanon, and even Yemen, while these have been the result of their relatively inappropriate policies, weapons purchase and other [wrong] decisions based on huge oil revenues," he says. And Iran has showed a lot of self-control, he adds. He further gives a short account of the Saudi Arabia's complicity in the eight-year Iran-Iraq war, which killed 200 thousand Iranians, and the catastrophes the kingdom has caused for Iranian hajis. Nonetheless, he advises Iran to continue its policy of toleration. "My advice is that we should improve our ties with Oman, Kuwait, and Qatar and tolerate the Saudis. We should never move toward tension," he says. Recounting some history, he says Iran is enjoying peace, security and superiority in the region even though countries with less than a hundred years since their independence are backed by trans-regional powers. He then offers some figures and stats on oil and gas reserves in the region, concluding that when both are concerned Iran stands at the top. "The region has long been under the spotlight because of oil and gas and the Indians and the Chinese are willing to participate but need to improve their ties with Iran in order to do so," he adds.
The Caspian Sea: Turkmenistan, Kazakhstan, Russia & Azerbaijan
Here, Rahim-Safavi asserts that Russia is the main power. The top aide to Iran's Supreme Leader says Iran could reach deals with countries in this zone through an appropriate strategy. "Iranians' historical mentality of Russians is a negative one and has remained so, but we are now cautiously cooperating with them, against US policies, in Syria," he reiterates.
Bringing up Iran's agricultural capacities, he further suggests that Iran can have 150-160 million man market in Russia if put under US and EU sanctions. However, because Russians are interest-motivated rather than ideologically driven, Iran should take into account its own national interests and security in working with them, he says. Iran's main problem in the zone remains the undetermined legal regime of the Caspian Sea, which Rahim-Safavi hopes can be resolved by the help of Russia. Adding Azerbaijan to the region, former IRGC chief says Iran can have good cooperation with the country with regard to its Shiite population, even though the government is seculary. He goes on to call Turkey a strategic rival for Iran in the Caucasus-Anatolia region but believes that the country would be too busy with domestic affairs in the next two or three years and its geopolitical weight has been diminished.
He concludes his remarks expressing hope that Iran can put to good use its geopolitical superiority in foreign policy, economic and security cooperation. Rahim-Safavi suggests that Iran could use North-South and East-West corridors in order to turn into an economy hub.