ISIS Targets Iranian Pilgrims, MP Urges Revenge
ISIS has claimed responsibility for a terrorist attack that killed almost 60 Iranian pilgrims in the Iraqi city of Hilla. Iran has officially vowed it will not lead to a compromise in its fight against terrorism. An MP is raising the bar for revenge.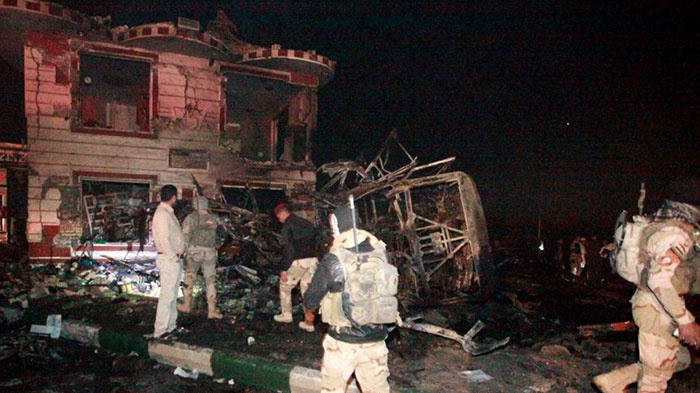 This weekend was one of back-to-back loss for Iran. On Thursday, a suicide truck bomb killed about 60 Iranian Shia pilgrims at a petrol station in the city of Hilla 100 km south of Baghdad. ISIS (or Da'esh, its Arabic acronym) claimed responsibility for the attack in an online statement. On Friday, two trains clashed near the city of Damghan, in Semnan province, east of Tehran. According to local officials, 45 passengers have been killed in the accident.
The two incidents have prompted responses from highest-ranking officials in Iran. On Saturday, the Supreme Leader issued a message, saying he felt stricken by the painful incidents, just like families of the victims. "Murderous, wretched takfiri groups whose malicious plots had been foiled by the great Arbaeen rally and the unmatched security of Imam Hossein pilgrims, took their coward, heinous revenge, once again revealing their malicious face and wicked egoism," the statement read. It also touched on the train clash, calling it the result of ignorance or imprudence on the part of officials. Ayatollah Khamenei demanded that officials do not move on easily from such painful incidents, domestic or transborder, and prioritize the elimination the root cause of such disasters.
Iran's Foreign Ministry condemned the Hilla attack, stressing Tehran's continued support for Iraq's "relentless fight against terrorism".
President Hassan Rouhani and Vice President Eshaq Jahangiri have also issued separate statements expressing condolences to the nation and condemning the terrorist attack. Rouhani urged the Iraqi government to crack down with stronger determination on the "black-hearted agents" of such inhuman acts and expressed Iran's readiness to cooperate in assisting the victims. Vice President Eshaq Jahangiri's statement also said such attacks only made the Iranian nation and government more resolute in their fight against terrorism.
One of the harshest responses however came from a lawmaker. In an op-ed published in Etemad newspaper, MP Mohammad Kazemi complained that states which played a role in the rise of blood-thirsty Da'esh have failed to condemn the attack or even extend their condolences to the Iranian nation. He went on to criticize the double standards by which a terrorist attack unites the world in condemnation while no one reacted when Iranian and Afghan pilgrims were brutally massacred. Kazemi then urges Iran to prepare and accouter itself for necessary countermeasures. "We have the right to take serious action against any terrorist group that crosses our red lines, to hasten their doomed death," he added.
Kazemi reiterated that Da'esh has crossed the red line repeatedly declared by Iranian officials and should await Iran's revenge. "Now, Iraq is obliged to open physical and legal ways for Iran's rigorous revenge against the savage group of Da'esh. Now, we have gained more legitimacy than ever for a severe crackdown on Da'esh, particularly in Iraq, and we should not let the statute of limitations to run out and let the python thrust its sinister bite in our lives," he added.
Kazemi concluded his op-ed by saying that the Iranian nation would back the armed forces in uprooting Da'esh, but remained expecting a severe blow to the terrorist group in order for the loss to be soothed.