What you need to know about presidential candidate Ebrahim Raisi
Ebrahim Raisi may be a new figure in Iran's politics, but he has already presented himself as President Hassan Rouhani's main rival in the forthcoming presidential race.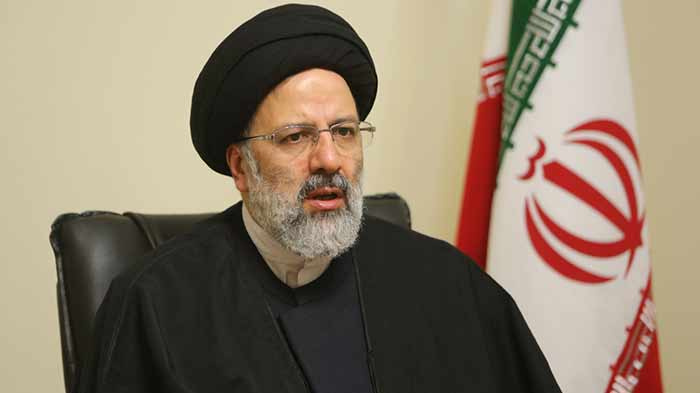 Seyyed Ebrahim Rais-o-sadat, better known as Ebrahim Raisi, has a portfolio career that encompasses many magisterial and judicial appointments, a few executive jobs, and two electoral seats.
According to a recently updated bio on his official website, Raisi was born on 14 December 1960 in the age-old Noughan district of Mashhad. Son of a cleric but orphaned at a very young age, he pursued a seminary education in Qom after completing primary school in Mashhad. Among grand ayatollahs whose courses he attended, stand out the likes of former chief magistrate Ayatollah Hashemi Shahroudi and Supreme Leader Ayatollah Ali Khamenei who have instructed Raisi and fellow students on advanced research courses, known in seminary school systems as Bahath e Kharij.
After the revolution and driven by a lack of functionaries, influential cleric, jurist, and politician Ayatollah Mohammad Beheshti gathered 70 young talents for courses meant to groom them for sensitive positions in the judiciary. That crash course perhaps changed Raisi's course of life. He soon climbed up the ladder to become Karaj County's assistant prosecutor at the age of 20. Briefly afterwards, he was promoted as the prosecutor of Karaj and Hamedan, two counties 300 kilometers apart. Five years later and he was appointed deputy prosecutor of Tehran's Revolutionary Court. In the years to come before the demise of the Revolution's first Supreme Leader, Raisi became a special trustee with direct decrees from Ayatollah Khomeini, authorizing him to independently resolve judiciary matters in Lorestan, Kermanshah, and Semnan provinces.
When the first Supreme Leader passed away a year later, the then Judiciary Chief Mohammad Yazdi appointed Raisi as Tehran's attorney general, a position he kept for five years. He then moved on to become the director of Iran's State Inspectorate Organization (SIO), a security-oriented anti-corruption body which works under the Judiciary. For the next ten years, Raisi remained Deputy Chief Magistrate under two different bosses, Ayatollah Hashemi Shahroudi and Sadegh Amoli Larijani. When the latter's second term began, Raisi was appointed as Attorney General, a position generally considered lower in rank compared to SIO directorship. However, tides turned when he was appointed by Supreme Leader Ayatollah Ali Khamenei as Chairman of Astan Quds Razavi, the official custodian of the holy shrine of Imam Reza, on 7 March 2016, after the death of his predecessor Abbas Vaez-Tabasi.
Ten days before the Supreme Leader's decree, Raisi had been voted in the Assembly of Experts, body in charge of supervising and selecting the Supreme Leader, for a second term as the representative of South Khorasan constituency. In both his entries, the conservative clerical associations Society of Seminary Teachers of Qom and Combatant Clergy Association had endorsed him. In 2006 and 2016, Ebrahim Raisi collected 200,906 (68.6 percent) and 325,139 (80 percent) ballots, respectively. He is also a member of the Assembly's board of directors, too.
As far as Ebrahim Raisi's still-aborning presidential campaign is concerned, it invites analogy between him and ex-president Mahmoud Ahmadinejad. Back in 2005, the Principlists presented Ahmadinejad as the living epitome of Mohammad-Ali Rajaei, a former president known for his humble life and love of the poor. Now, Raisi is being portrayed as the modern embodiment of his former guru Ayatollah Mohammad Beheshti, who died along with more than 70 members of the Islamic Republic Party on 28 June 1981 in a terrorist bomb attack. Hailing from a group of taciturn politicians unwilling to make public appearances, Raisi was not much of a familiar face for the public until quite recently. It is only for the past two months that his photos have been circulating in Principlists media, usually featuring Raisi in his visits to poverty-stricken areas in remote villages in Khorasan region.
Raisi's complicated relationship with the Popular Front of Islamic Revolution Forces (PFRF) is noteworthy. Not only did he refuse the Front's stipulation to withdraw at their discretion, he also made no reference to them in a bid to present himself as a trans-partisan figure. An alternative interpretation is his alliance with the hardliner Paydari Front, yet another similarity with Ahmadinejad. Even within the Principlist camp, it is hard to see signs of a finalized consensus. An unexpected withdrawal by former nuclear negotiator and presidential candidate Saeed Jalili along with Tehran Mayor Mohammad Baqer Qalibaf's shift from withdrawal to registration, has led to a situation that implies confusion.  
Critics believe Ebrahim Raisi's cabinet would be a so-called 'joint-stock' administration, with portfolios distributed among Principlist figures. Speculations are already underway about shareholders. In such a scenario, Qalibaf is usually crowned VP, while Saeed Jalili is named as the foreign minister. Many members of Ahmadinejad's cabinet will be back at work, including his petroleum minister Rostam Ghassemi.
From what pro-Raisi media have shown in the recent months, his campaign will invest heavily on the underprivileged as his target community, while criticism of the Rouhani administration would remain low-key compared to the rhetoric used by Qalibaf and others. Even though Ebrahim Raisi is yet to publicize his plans in case of victory, he has told reporters that his foreign policy would be to establish ties with every country except Israel, whom Iran does not recognize. Nonetheless, a glance at his entourage in the Interior Ministry as he was signing up indicates a close resemblance to Ahmadinejad's first-term cabinet.