Raisi Has Hired Many Pro-Ahmadinejad Figures in Presidential Campaign
Ebrahim Raisi's campaign has much in common with the Ahmadinejad administration, just as President Hassan Rouhani said in the third televised debate.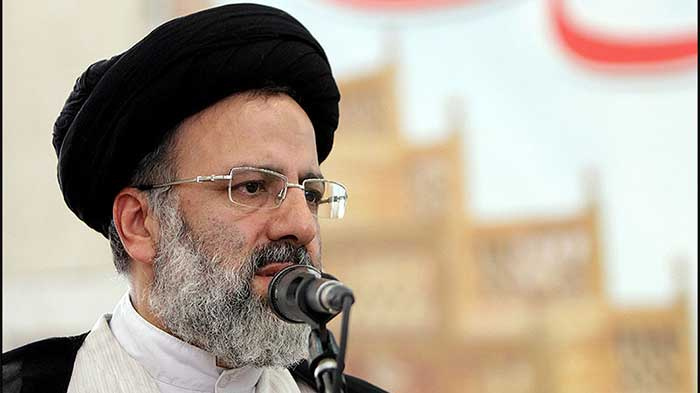 In Friday presidential debates, when Ebrahim Raisi angrily demanded that Hassan Rouhani held a one on one debate with Mahmoud Ahmadinejad to put an end to his criticisms of the former president, Rouhani fired back with a response formerly less noted: he said debate with Raisi was enough since his campaign enjoyed collaboration with members of the previous administration.
Rouhani is right. All Principlists have sided with Raisi, particularly former friends and ministers of Ahmadinejad. Raisi has the lead in the intraparty race with Qalibaf. Even Ahmadinejad's culture minister and member of the Popular Front of Revolutionary Forces (PFRF) Mohammad Hosseini has said that Qalibaf will probably become Raisi's vice president. They seem to have already arranged everything: President Raisi and Vice President Qalibaf.
This clearly explains why no Principlist is siding with Qalibaf these days. He has only himself and his men in the Municipality. Thus, the ultimate share he will probably get in the potential Principlist administration is vice presidency. This maybe the secret to a unanimous shift toward Raisi in the Principlist front. There seems to be no reward in being by Qalibaf's side these days. In contrast, many better-known figures have gathered around Raisi. Interestingly, some of them including former Tehran MP Hamid Rasaei or the vocal cleric Alireza Panahian do not have amicable ties with Qalibaf, too.
Hamid Rasaei
Hardliner anti-Rouhani Principlist was an Ahmadinejad advocate. He was barred for the latest parliamentary election in February 2016, to which he responded by withdrawing into his farm, planting zucchinis. He once again ran for the midterm election from Isfahan. This time the Guardian Council endorsed his qualification but he withdrew. Last year, he wrote on his website: "Qalibaf has called the nuclear deal successful, whereas the Supreme Leader has labeled it ambiguous, structurally weak in terms of sanctions relief and potentially causing great damage for the present and the future". Rasaei considered Qalibaf to be in the same line with the Rouhani administration, claiming the alliance was rooted in the astronomical discounts scandal over transfer of mainly uptown real estate properties to close friends. On May 1, Rasaei gave a speech to a gathering of Ebrahim Raisi's central campaign headquarters in the grand mosque of Shahr-e Kord.
Saeed Jalili
He was the first major figure who threw support behind Raisi. Once in charge of the nuclear dossier under the Ahmadinejad administration, he issued a statement announcing his withdrawal from the presidential race, before going to visit Raisi. He has been to more campaign visits and lectures for Raisi than any other Principlist. He has visited Qazvin, Hamedan, Khuzestan, and Amir Kabir University to support Raisi.
Ali Nikzad
Nikzad is the director of Raisi's campaign. He was a key minister of Ahmadinejad, and accompanied the then president in the Interior Ministry as part of the entourage for Esfandiar Rahim Mashaei, who wanted to sign up for the 2013 presidential race. Being the Housing Minister of Ahmadinejad, Nikzad launched the Mehr Housing project as part of his policies. Raisi has strongly defended the project during his campaign. It is not unlikely that Nikzad goes back to complete the project under the Raisi administration.
Ezatollah Zarghami and Mehrdad Bazrpash
From among all supporters of Raisi, the case of Zarghami is the most curious. After Raisi declared his independence from the all-Principlist camp Popular Front of Revolutionary Forces, Zarghami was the only man who wrote a letter, demanding Raisi's removal from the PFRF shortlist of hopefuls. The former IRIB chief, who was himself one of the PFRF's candidates for the presidential race, wrote in his letter that Raisi should be removed from the list because he did not want to be under the umbrella coalition. He had stressed that a deviation from the norm would be a breach of the PFRF directives, agreed by all members. However, it was recently reported that Zarghami has joined Raisi's supporters. Bazrpash, was in the PFRF's five-man short-list but arrived late for registration. He then said he had gone to the Interior Ministry to announce his withdrawal in favor of other Principlist candidates. However, some reports indicate that he was informed of his disqualification and advised to withdraw. Bazrpash too was one of the executives of the Ahmadinejad administration who became the managing director of gian carmaker Saipa, at a young age.
Alireza Panahian and Hassan Abbasi
Panahian is close to Ayatollah Mesbah Yazdi, who once backed Ahmadinejad. He played a key role in the notorious gathering of The Solicitous, an anti-nuclear deal campaign against the Rouhani administration. On May 1, he spoke to a large gathering of Raisi supporters, firing a squib at Qalibaf. "Until now, there has never been a presidential candidates with such major responsibilities at the time of candidacy," he said, praising Raisi's portfolio. "Take other candidates for example. At their best, they have been the mayor of a metropolis," he said. Elsewhere in his remarks and in response to internal criticism brought up against Raisi supporters, he said a president should not necessarily be a project manager, as he should be a macro-level director within the establishment. Hassan Abbasi, a hardliner orator of the Principlist front, has spoken out harshly against Hassan Rouhani in recent months. Several days ago, he expressed hope during a speech that major pro-reform figures will be executed when the administration is replaced. Panahian and Abbasi are reportedly going to give speeches in different mosques in Tehran.
Zakan, Zaribafan, and Zahedi
The three disqualified Principlist hopefuls are also on the Raisi team. Zakani who was one of the most ardent critics of the Rouhani administration and the nuclear negotiations team was strongly rumored to be appointed as Raisi's campaign director but he was finally replaced by Nikzad. Massoud Zariban, director of the Martyrs Foundation under Ahmadinejad, was previously seen as part of the second ring of Ahmadinejad adherents. Zahedi too was Ahmadinejad's Science Minister. All the three have issued statements to throw support behind Raisi. "It should be noted that all organized headquarters and facilities established in Tehran and other provinces will work in support of Hujjat al-Islam Ebrahim Raisi," read Zaribafan's statement.
Mohammad Abbasi and Mirkazemi
They have both been Ahmadinejad ministers. Mirkazemi was even appointed campaign chief by Raisi for a single day but was replaced by Nikzad. He was then appointed director of the campaign's planning committee. Mirkazemi was the only economy minister in Ahmadinejad's first term that seriously advocated his president's economic policies in the heat of the 2009 presidential race.
Karimi Ghoddousi, Ghazipour, and Vahid Dastjerdi
Last week, ILNA had reported that big gatherings would be held across the country for young supporters of Raisi. Javad Karimi Ghoddousi, Mashhad MP, another critic of Rouhani's foreign policy, would be visiting Gilan. Nader Ghazipour, who represents Urmia in the parliament, would give a speech in the city and Marzieh Vahid Dastjerdi would be in Ardabil. Dastjerdi was Ahmadinejad's healthcare minister. She has not openly backed Raisi in her speech. As the spokeswoman of the PFRF, she cannot side with Raisi while Qalibaf is still in the race. "It is quite likely that one candidate withdraw in favor of another or that the election go to the run-off. Both candidates backed by the PFRF will remain in the scene until the end," she said.
* This piece was originally published in the Reformist Shargh Daily.