Will the Glass Ceiling Finally Crack in Hassan Rouhani's Government?
Who are the women Hassan Rouhani is considering to work with in the 12th administration?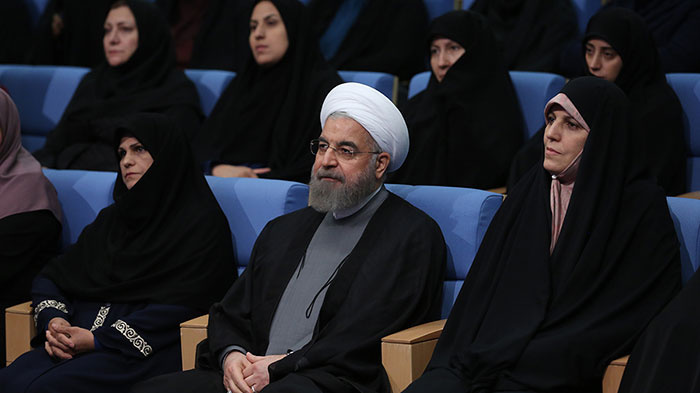 During his campaign in 2013, Hassan Rouhani repeatedly insisted on the necessity to use women in high-ranking executive jobs. However, in his first administration he used only three women as his vice presidents but failed to nominate any as minister. Nonetheless, the recent presidential race and the relatively high number of women voted in the parliament and the city council seems to have altered use of women in the highest executive positions. These days, reports are coming out that three women will assume ministerial positions in the next administration. According to former lawmaker Fatemeh Rake'ei, the Reformists are in talks to introduce their candidates and pave the way for the appointments.
Speaking on the issue, Vice President for Parliamentary Affairs Hossein-Ali Amiri has called women's part in the cabinet a public demand. "The President believes in the ability of women. That's why three women are working as vice presidents under the 11th administration. Naturally, this capacity will be used in the 12th administration too. In the present administration, we do have women as governors or deputy governors, too," Iranian media have quoted him as saying.
Shahindokht Molaverdi, the incumbent Vice President for Women and Family Affairs, is one of the women most anticipated and negotiated about for such positions. Even prior to 2013, she was one of the most outspoken critics of the Reformists' failure to include women in their election lists. In July of 2013, in a conference held on women's role in the Rouhani's Administration, the so-called Prudence and Hope Government, she lambasted the pro-reform side for lack of a rationale in their exclusion of women from a 33-man parliamentary list. "Why don't they trust women and speaking of the necessity of a link between an executive post and the individual's academic field, whereas a pediatrician has been foreign minister for 16 years," she said, referring to former foreign minister Ali Akbar Velayati. In a recent comment about the issue, Molaverdi has predicted two or three female ministers for the 12th administration. Expressing hope for improvements, she said that the ground is paved for women to work as ministers in the 12th administration, given her experience from the 11th administration.
Reports about the inclusion of three female ministers seem to be serious. Candidates include Molaverdi, Vice President and head of Environmental Protection Organization Massoumeh Ebtekar, Vice President for Legal Affairs Elham Aminzadeh, pro-reform former interior ministry advisor Zahra Shojaei, director of Iran's National Liberary Ashraf Broujerdi, former lawmaker Elaheh Koulaei, and culture ministry advisor Parvin Dadandiash (wife of telecommunications minister Mahmoud Vaezi), and Fatemeh Tabatabaei who is Islamic Republic founder Ayatollah Khomeini's daughter in law. Hassan Rouhani is reportedly positive about some of these candidates.
The administration seems to want to use women in ministries not concerned with economy and foreign policy, areas that are more sensitive. Ministries more likely to get female ministers would thus include education, culture, science and technology, healthcare, and welfare. Unsubstantiated reports say it will be the first three.
One of the candidates is Shahindokht Molaverdi, who many believe has handled her position as vice president for women and family affairs quite successfully. She has denied the reports. Fatemeh Tabatabaei who holds a PhD in mysticism studies has apparently been nominated for the science and technology ministry, a very likely place to see replacement. According to rumors, Hassan Rouhani is quite positive about offering her the position, but she is not convinced yet. It is said that some political activists are engaged in talks to persuade her. Ashraf Broujerdi has always been one of the likeliest Reformists to join the administration. She directed the women's headquarters of the Rouhani campaign. Proponents find her a fitting candidate for the culture ministry. However, she may not be able to accept sensitive jobs due to weak health. One of the other candidates for the culture ministry is Zahra Shojaei, vice president for women and family affairs under the Khatami administration. She too has reportedly refused to accept.
In the meantime, rumors have it that Mahmoud Vaezi has been trying to propose his wife Parvin Dadandish as a candidate for the science and technology ministry. Since Dadandish is currently the dean of Islamic Azad University West Tehran Branch and not very popular in the academia, her appointment seems quite unlikely. However, given her past collaborations with Hassan Rouhani, she is said to be a serious candidate for the culture ministry,
Considering Hassan Ghazizadeh Hashemi's reluctance to continue his service in the healthcare ministry due to pressure from certain media outlets and institutions, some reformists are trying to propose Fereshteh Baghaei, a practitioner and academic, for the position. However, Ghazizadeh Hashemi's successful term in the ministry and recent comments in which Hassan Rouhani praised his healthcare plan, he seems to be the one proposed to the parliament as the healthcare minister.
Hassan Rouhani will be inaugurated in the parliament in a month and he will have a further 15-day deadline to propose his ministers to the Majlis. In a few weeks, we will know if four decades after the Islamic Revolution, women will finally find their place in high-ranking levels of the executive branch.
* The piece above is an adopted version of an article originally published on Tabnak, affiliated with former IRGC commander and moderate Principlist Mohsen Rezaei.