Hamas Faces Towards Iran After Strategic Mistake
In an interview with moderate news agency, Khabar Online, former Iran ambassador to Damascus, Hossein Sheikholeslam discusses Hamas' rapprochement with Iran and estrangement with the Saudis.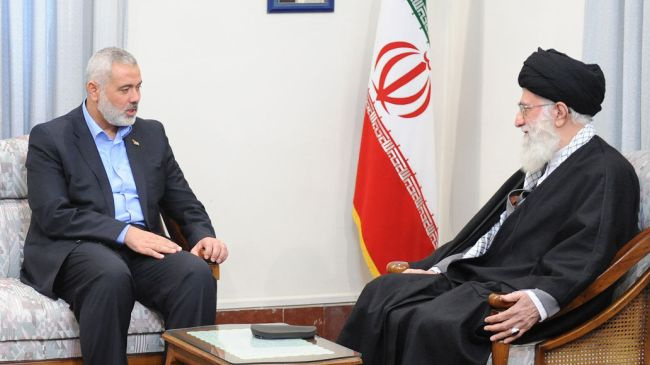 How do you evaluate Hamas' estrangement from Iran in the recent years? What has made the group to approach Iran again?
Iran's approach to Israel and the decades-long crisis in the Middle East is clear and has never changed. Iran finds the Zionist regime an occupier and never recognizes it. Iran backs any group fighting on the fronts against them. And Hamas is one of the groups allied with Iran due to its approach.
Resistance requires arms and training. Therefore, neither Hamas nor Iran cannot stand a separation. However, during a certain period, mistakes took place that led to a rift. In particular, these mistakes began in Al-Qusayr, Syria, where we noticed that some people are using our weapons and our ways to fight against us.
How significant was Al-Qusayr?
Keeping Al-Qusayr was vital for us and Hezbollah alike, because with the fall of Al-Qusayr, Damascus would fall too and this would help Daesh invade Iraq and conquer it after the collapse of Syria. We fought in Syria to prevent this and also further escalation of the situation in Syria and Iraq. If that [fall of Al-Qusayr] happened, Iran would be sharing borders with the terrorists now.
We noticed in Al-Qusayr that our own tactic was being used against us. We found out that this group were members of Hamas, who were fighting there. We protested at Hamas on the grounds that we were offering them arms and training in return for a commitment to use them in the same line intended.
Of course, they would respond that those measures were personal and not organizational. However, it was not acceptable for Iran that the staff of Hamas, an organization committed to Iran, fight in the opposite front without managerial interference. The relationship was affected but not severed. They then fixed the ties and tried to change course.
How does Saudi Arabia generally approach Hamas? It seems that Hamas has turned back on Saudi Arabia because of certain Saudi policies.
Every player that approaches Saudi Arabia is distanced from us and Hamas. The further from Israel, the closer to us. This is clear. One of the problematic policies of Saudi Arabia is its exorbitant closeness to the Zionist regime. Of course, they did collaborate with Israel in the past. The 33-day war in 2006 is an evident example, when Foreign Minister Saud al-Faisal called it reckless adventure sought by Hezbollah, actually siding with the Zionist regime. As you can see, they already had ties with the Zionists. They are only declaring it now, under pressure by the Israelis, because both of them are in a weak position and need open and closer cooperation in order to strengthen and embolden themselves against the Axis of Resistance.
Hamas representatives attended President Rouhani's inauguration ceremony. What negotiations took place with them?
A high-ranking delegation of the movement attended the ceremony to express gratitude for Iran's support of the Palestinian nation and resistance. Hamas had stressed that the visit was intended to strengthen mutual ties with Iran and to facilitate services to the Palestinian nation. They visited Mr. Larijani and the issues brought up in the talks seem to be continued.
Is a visit by Ismail Haniyeh imaginable in future?
It is a question asked by many people these days. We should say that ties are closer and visit will take place. After all, Iran welcomes any Palestinian dedicated to Resistance, whether it is Haniyeh or someone else.
How do you anticipate the future of the rift between Gaza and the West Bank, and more particularly between Mahmoud Abbas and Hamas?
The first thing Mahmoud Abbas needs to do is to hold the election. Because his time has come to an end and his status is now illegitimate. With all its downsides, Hamas has held an election and represents people. However, Abbas' term has long been overdue but he still refuses to hold an election. He should expose himself to popular vote to see whether he actually represents people or not. Whether they support him or not. Mahmoud Abbas creates some difficulties for the group.
Can we consider the appointment of Yahya Sinwar as Hamas' bureau chief to have a positive impact on Iran ties?
Given his image and the situation, his appointment could be useful and considered quite important. It is a worthwhile opportunity for Hamas to strengthen its ties within the Resistance front. The election belongs to the Palestinians and they are free to decide their course. We want all Palestinians to be united and we will pursue our past policies.