The Legacy of Massoumeh Ebtekar in Iran's Department of Environment
Massoumeh Ebtekar leaves Iran's Department of Environment (DoE) to serve as President Rouhani's Vice President for Women and Family Affairs. She was appointed director of the DoE at a time when air pollution was suffocating big cities, Lake Urmia was on its deathbed, draught was ravaging Iran, who left ecological traces of an industrial nation.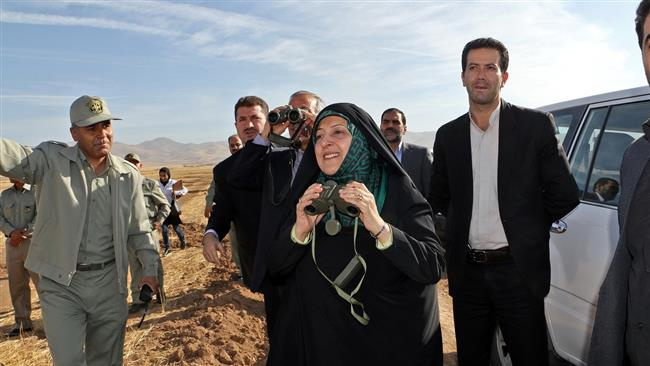 Here's a brief look at Ebtekar's legacy after four years in charge.
Less polluted days in Tehran
From to 2012 to 2016, the number of clean-air days in Tehran has soared from 216 to 260. In 2013, 45 percent of power plants used mazut. By 2016 an under the campaign to fight air pollution, this dropped to 8 percent. During the same period, Euro 4 fuel came into wider use in different cities. Some 40 cities in Iran are using Euro 4 fuel and all other cities are supposed to be using the fuel in 3 years. One of the main measures undertaken to fight air pollution was the preparation of the 'clean air bill', now endorsed by the Guardian Council. Furthermore, automakers are required to manufacture Euro4-consuming cars. The Department of Environment (DoE) plans to improve fuel and automobile standards to Euro 5 by 2021.
Dust
Under Ebtekar's direction, a headquarters was established to combat dust. Domestic and foreign causes were identified and talks were held with Iraq to prevent formation of dust in the source country. However, these measures did not suffice. In late January, dust peaked so much that resulted in blackout in Ahvaz. Nonetheless, there has been improvement in comparison with the previous four-year term.
In March, director of the headquarters to combat dust, Ziaoddin Shoaei, said in an interview with Khabar Online that during the years observed, we had 74 dusty days in 2013, while we had only about 17 last year. Most of the dust comes from abroad but severe ones like that of late January are caused back home. "Following the President's order, the Ministry of Agriculture was assigned to take practical steps for these regions and some have been taken already. Some 40000 km of land in the southeast of Ahvaz will receive water. About 4 or 5 acres of the land are cultivable and 3 acres could be mulched," Shoaei said.
One of the main sources of dust in Khuzestan was the Hawizeh Marshes, dried under the Ahmadinejad administration. The DoE has managed to revive 80 percent of the marshes, saving them from permanent draught. Despite these steps, the DoE had to deal with a tense situation in Khuzestan. Many in the province accuse Ebtekar of staging shows, rather than working. What they actually mean is DoE efforts over the recent years have had little impact in controlling dust in the region.
Bill for protection of rangers
Over the past four years, rangers have enjoyed a lot of support. Pay raises ranging from 30 to 40 percent, seven cases in which death penalty was exonerated due to parole by the slains' next of kin, and the likes. The most import step? The drafting of a bill to protect rangers. The bill is now being reviewed in the parliament.
Lake Urmia
Ever since 1995, Lake Urmia's water balance has been on the decline. The downward trend went on until in the mid-2000s, when experts called the lake drought, disillusioned about the possibility of revival. However, in his 2013 presidential campaign Hassan Rouhani vowed to revive the lake. After he took office, the DoE worked with a commissioned headquarters to accomplish that. The initial target was to stabilize the lake's water balance and now the downward trend has stopped. Among other steps taken, the DoE has successfully managed farming water consumption in the watershed.
Legislation to protect wetlands
As part of its plans to combat draught and reduce water consumption, the DoE has offered a bill to protect wetlands, which includes school education on water consumption and incentives for water recycling.
The Paris Climate Accord
Almost 2 years ago, Massoumeh Ebtekar joined officials from 150 countries to sign the Paris Agreement, based on which all sides agree to reduce their emission of greenhouse gases. Iran played a significant role, sparking international praise. Last December, former US Vice President Al Gore noted that Iran, previously known as a pariah country in the international scene, had surprised other states in Paris.
Inside Iran however, many criticized Iran's signature under the agreement because it was binding. So far, the Guardian Council have declined to endorse the agreement and the DoE seems unable to convince them.