Bracing for Tough Times: A new wave of pressure on Iranian Reformists on the way
A fresh round of arrests and judicial decrees against the Reformists has been interpreted as the clarion call of a new era in Iran's domestic policy.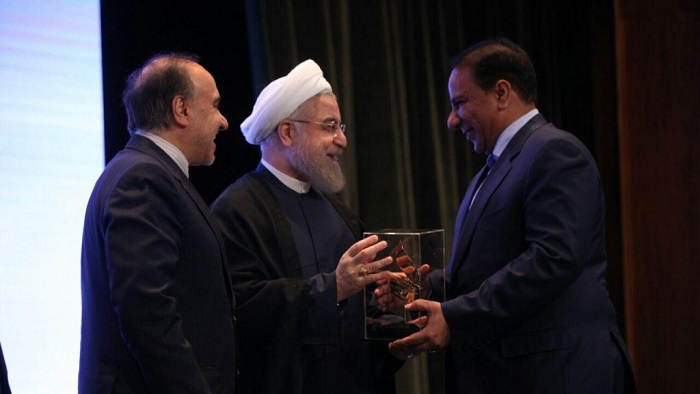 (Picture: Mahdi Jahangiri with President Hassan Rouhani and Minister of Sports and Youth Massoud Soltanifar.)
Is this the beginning of a new era or is it random coincidence? Imprisonments and bans from partisan activities for seven prominent Reformists, new restrictions on former president Mohammad Khatami, and now the arrest of Vice President Eshaq Jahangiri's brother. Even if linked randomly, these developments bring certain questions to mind, particularly because VP Eshaq Jahangiri has called the episode as "predictable", expressing hope the arrest was not driven by political reasons.
Jahangiri's brother, Mahdi, the chief executive of Tourism Financial Group and vice chairman of Tehran Commerce Chamber has been arrested, Tabnak reported on Thursday night. Hours later the Vice President confirmed the reports, according to which Mahdi Jahangiri stands charges over his tenure in the Tourism Bank. Also under investigation is his term as director of Iran's Cultural and Tourism Investment company, known as Samga and established in June 2009 with a capital of 20b tomans (more than $5m). The company soon grew up to incorporate seven big-scale subsidiaries. Mahdi Jahangiri has been on the board of directors in Bonab Steel Industry Complex, Iran's Handball Federation, Negin Gardeshgari tourism company, and Mahan Mines and Industry Development Holding. Reports still not denied indicate that he has worked with a group affiliated with Ahmadinejad's right hand Esfandiar Rahim Mashaei as well as the Rouhani administration. While director of the Tourism Financial Group, Mahdi Jahangiri was honored as a top entrepreneur of the industry.
During this year's presidential campaign, when candidates were collecting documents against each other in the polarized atmosphere in the hope of digging a trump card, Jahan News, affiliated with former hardliner lawmaker Alireza Zakani, published a long story on the brothers of the two candidates backed by the Reformists.
President Hassan Rouhani's brother, Hossein Fereidoun on the one hand and Vice President Eshaq Jahangiri's brother Mahdi on the other hand faced accusations that were at least unprecedented for the latter. The story on Jahan News questions his accumulation of wealth, links with Esfandiar Mashaei and the other Ahmadinejad aide Hamid Baghaei, as well as a contract to build five-star hotels, three weeks before the election. After listing several subsidiaries of the Tourism Financial Group, Jahan News claimed to have tracked it in financial and capital markets as well as multiple hotel-building, oil and gas, construction, interstate accommodations, and recreational centers across the country. The conglomerate reportedly has a long history of winning government tenders for such projects. That was not the end of the story yet.
Mahdi Jahangiri issued a statement in response to Zakani, expressing surprise that with years of legislative experience, the former lawmaker did not know that according to the Principle 44 of the constitution, no individual could possess shares of a bank and the list of bank shareholders was public. Even calling his activities in line with the Supreme Leader's concerns regarding 'resistance economy' did not help him rid of election debates. In the last televised debate, Principlist presidential candidate Mohammad Bagher Qalibaf counterattacked when Eshagh Jahangiri questioned the transfer of Tehran municipality's shares in Sarmayeh Bank to an economically corrupt individual. He called Jahangiri's remarks obvious lies and challenged Jahangiri to address infringements by banks, with his punch line being "especially your own brother's Tourism Bank".
Jahangiri was not given a chance to respond to the accusation brought against his brother but the position cabinet members were to adopt regarding infringements by relatives turned out to be that of the president.
"I do not have an oath of brotherhood with anyone" Rouhani said. "If anybody has committed an infringement, he should be punished," said the president, indicating that he has no redlines in the fight against corruption, something never uttered by a president before.
Rumors about Hossein Fereidoun arrest began to circulate in the heated campaign days, but ebbed when he was seen in the line of voters. However, the judiciary arrested him in June. He remained in custody for a day and was then released on bail.
Vice President Eshagh Jahangiri took to Instagram, confirming reports of his brother's arrest. "I have no precise information on the cause, accusation, bailiff, and plaintiff of the case. Of course, he has no government responsibility or activities," his post read. "This was predictable and we should be patient. I hope it is not an instance of political abuse. Justice, fight with corruption, and rule of law should be implemented equally for everyone," he added.