Sheikh Attar in Germany, Caspian Sea Still Pending
Ali Reza Sheikh Attar, Vice Minister and Iran's representative on Caspian Sea affairs, has been introduced as Iran's new ambassador to Germany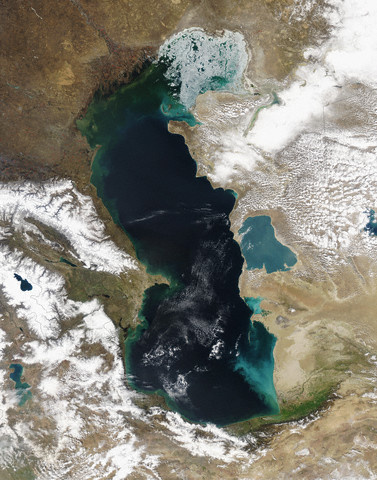 Tehran's summer started with a reshuffling in the Ministry of Foreign Affairs. Iran's ambassador to Italy, Abolfazl Zohrevand, returned to the country and Ali Reza Sheikh Attar, Vice Minister and Iran's representative on Caspian Sea affairs, has been introduced as Iran's new ambassador to Germany. So two months before the Caspian Sea Summit in Baku, everything has become unclear and it is not known who will replace Sheikh Attar as Iran's representative.
Sheikh Attar started his service in Iran's diplomatic body from 1990, holding different posts in the Ministry of Foreign Affairs. With start of Ahmadinejhad's term, he became Deputy Minister for Economic Affairs. During the tide of changes some months later, it was said that he'll become Iran's ambassador to Belgium; however, Sheikh Attar continued his service, gaining promotion to Vice Minister.
Shortly after serving in the new position, he also became Iran's Deputy Foreign Minister in CIS and Iran Neighbors' Affairs, replacing Mehdi Safari. Sheikh Attar was also appointed as head of the Iranian delegation in the Special Working Group to Compile the Convention for the Legal Regime of the Caspian Sea. In less than one month after this appointment, Spokesman of the Ministry, Mohammad Ali Hosseini, announces that Sheikh Attar has become ambassador to Germany.
Sheikh Attar's first experience as ambassador dates back to 1992 when he served as Iran's ambassador to India until 1998. He will be soon sent to one of the most important EU members with which having constructive interaction can have significant diplomatic, economic, cultural and political impacts.
Though not a permanent member of UN Security Council, Germany is a 5+1 member and an influential country in nuclear negotiations with Iran.
Meanwhile, it is Mehdi Safari, former representative of Iran in Caspian Sea negotiations, that now -disengaged from Caspian affairs- is informing Europeans about Tehran's nuclear stance in his new post as Deputy Foreign Minister of European and American Affairs.
Caspian Sea, still unresolved
With head of the Iranian delegation working group taking another post, the future of Caspian Sea affairs remains vague. Sheikh Attar had replaced Safari during the 22nd meeting of the Special Working Group. Now, on the brink of a new round of meetings that is going to be held in two months, it is not clear who will lead the Iranian delegation in the meeting. As an influential country in the Caspian region, Iran must be more vigorous than others to finalize the legal regime and end the vague status quo.
Interestingly, the Caspian Sea legal regime's pending state is concurrent with U.S. attempts to increase its interactions with Caspian littoral states. It seems that both Iran and U.S. are trying to extend their security sphere in each other's periphery, as Michael Rubin, resident scholar of AEI pointed in a recent article.