Water Dispute between Iran and Afghanistan Sees New Developments
Afghan international law expert Vahid Zohouri Hosseini* writes of the potential to find a peaceful solution, despite escalating rhetoric in Afghanistan over a water dispute with Iran.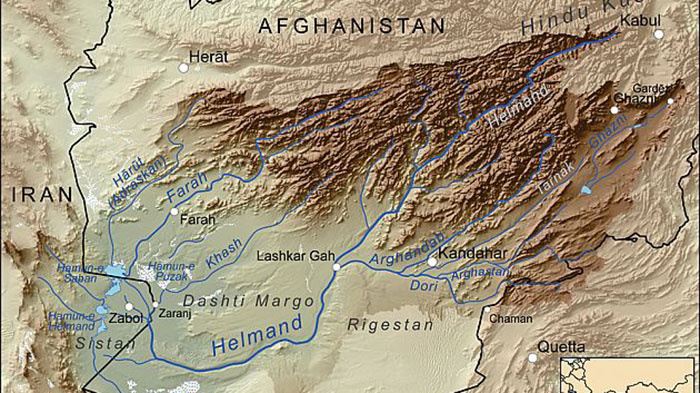 Afghanistan is a mountainous, landlocked country. Thus, rivers are the country's sole water resources, i.e. its lifeline. On the other hand, more than three decades of war, chaos, and absence of a strong government has made impossible fundamental infrastructural projects including water efficiency, depriving Afghans of its advantages.
The few discontinuous measures, undertaken in spite of insecurities, have such a long way to go before they could pave the ground for the operation of water projects, dam building, and other projects, that cause no concern for the operators of the Helmand River. For years, the water has been used regardless of the legal issues of Iran's right of water in Helmand, or official contracts and memorandums reached about the river. The usage may have been limited temporarily due to political circumstances but problems have been mostly linked to climatic conditions, which required tactful planning.
National interests require every state to use every possible method to protect its own territory. In line with Iran's national interests, President Hassan Rouhani aptly said during International Conference on Combating Sand and Dust Storms that the drainage of Hamun-e Helmand and the dust it causes will bring suffering not only for people in Iran's Sistan and Baluchestan Province but also for the Afghans. However, there are two points that make it difficult to put the puzzle together. One is Islamic and revolutionary values employed in relations with the neighboring Muslim, and in the words of Imam Khomeini oppressed country. Afghans only look to regional cooperation, particularly with Iran, in order to put successful experiences at work and arrive at win-wins with better humanitarian solutions. The other point is that the issue should not cause sensitivities, become provocative, or lead to unilateralism to provide a pretext for those who hate the fraternity between the two revolutionary nations.
During the conference, President Rouhani said Iran could not remain indifferent in the face of issues that destroy the environment. He further added that numerous dams built in Afghanistan, including Kajaki, Kamal Khan, Salma and other dams in the south and north of the country, would affect Iran's Khorasan and Sistan and Baluchestan provinces. "We cannot overcome this without cooperation with the neighbors, the region, and the world," he added. "To combat the issue successfully, to control its risks and threats, we need planning, we need investment, and we need regional as well as international investment," Rouhani said.
The hydropolitical differences between Iran and Afghanistan could have significant impact on the sides' border security. The conflict in national water interests could be tactfully resolved by fixing the contradictions, before eliciting comments from Afghan lawmakers.
Afghan officials Nazifeh Zaki, Nader Khan Katawazai, and Hafizullah Barakzai have used harsh rhetoric in response to Iranian officials. Afghan Deputy Speaker Humayun Humayun has called remarks made by Iranian officials baseless, urging them to study the contracts. He has also called on Iran to avoid interfering not only in Afghanistan's water issues but also in the country's security and cultural issues. Afghanistan's Parliamentary Speaker has ordered the committee for international relation to demand copies of the water contracts with Iran from the ministry of foreign ministry, in order for a thoroughly review by the lawmakers.
"Afghanistan has the right to build dams in its own soil," Obaidullah Barakzai, a member of Afghanistan's lower house called House of the People, said. Another house member Nasrollah Sadeghi Zadeh Nili has stressed a peaceful solution for Afghanistan's water issues with neighbors. He has urged the Afghan government to resolve the issue while respecting the national sovereignty of neighboring countries. "Afghanistan is not the only country that has water disputes with its neighbors. Other countries have similar issues but have managed to find their own solutions," the house member said. "Without getting involved in a conflict with each other or using inappropriate words against each other, we hope the Afghan government could act responsibly and resolve the issue," he added.
In the meanwhile, presidential deputy spokesman Najibullah Azad said the Afghan government has failed to put the country's resources, particularly waters, to good use in recent year but is now acting seriously to do so. "This is our right to enjoy our waters and the Afghan government has the right to use the resources for our national interests and this is one of our priorities," he added.
The National Unity Government has completed the rebuilding of Salma dam in Herat. It sees the reconstruction of Kamal Khan dam in Nimruz, the building of Kajaki dam in Helmand, and Bakhshabad dams in Farah in the same light. Afghanistan's ministry of foreign affairs has emphasized that Afghanistan is seriously committed for the full implementation of Helmand water agreement with Iran, saying the management of water resources is a top priority for the Afghan government.
Afghan deputy foreign minister for administrative affairs Nasir Ahmad Andisha has said the National Unity Government is more committed than ever to strengthening political, economic, and cultural ties with Iran in the light of national interests. "Iran and Afghanistan are committed to strengthen and expand their mutual ties and put our joint interests in good use. The Afghan side has always brought these commitments up in talks with Iran," Andisha said.
"In the water issue too, the Afghan president has stressed on our commitment to the full implementation of the Helmand agreement. Our achievement is that as an active member of international community, we have remained committed to the deal we signed," the deputy foreign minister added.
Talks on Helmand water is one of the main topics discussed during strategic talks between Iran and Afghanistan. A second round of talk is slated for August.
Iran has proved its goodwill to Afghan people, during the years of war and is currently home to three million Afghan refugees. Therefore, it is possible for the sides to look for crisis settlement solutions for Helmand, preventing abuse of the determining dispute by enemies.
*Vahid Zohouri Hosseini directs the center for coordination of Afghanistan's cultural organization. The op-ed above was originally published in Persian on Iranian Diplomacy.