Kuwait as Go-between Iran and Saudi Arabia?
A brief interview with Middle East expert Sabah Zangeneh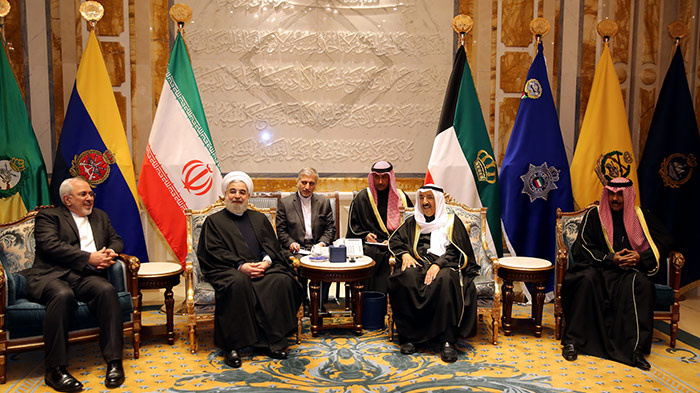 During his brief visit to Kuwait paid on Wednesday, Iranian President Hassan Rouhani met Kuwaiti Emir Sabah Al-Ahmad Al-Jaber Al-Sabah. During the meeting, Rouhani called negotiation the only way through which countries in the region would be able to resolve problems and settle misunderstandings.
After a group of vigilantes stormed the Saudi embassy in Tehran over the execution of prominent Shiite cleric Sheikh Nimr al-Nimr, Kuwait summoned its ambassador home from Tehran. However, the fact that the Iranian ambassador continued his mission in Kuwait was seen as a sign that Kuwait did not want zero ties with Tehran. A quote from the Kuwaiti Emir during the Wednesday meeting, where he said Kuwait was "ready to develop and deepen ties with Iran in different fields," indicates that Kuwait keeps the window of hope even in the most critical state of affairs between Iran and certain Persian Gulf states, including Saudi Arabia. This is partly because of Kuwait's relative independence from Saudi Arabia in financial terms. When the Kuwaiti Emir invited President Rouhani for a visit, calling for 'constructive talks', some observers saw it as a message from the Persian Gulf Cooperation Council member states. Iranian Diplomacy has consulted Middle East expert Sabah Zangeneh over the recent visit and the prospects for these preliminary talks.
The invitation came from the Kuwaiti Emir whereas the Kuwaiti Foreign Minister summoned its ambassador to Tehran last year after the Saudi embassy was stormed. Kuwait also backed Saudi claims against Iran. Why did the Kuwaiti Emir make the invitation?
Although the Kuwaiti ambassador was summoned home, contact between the sides was never cut off. Furthermore, the Iranian ambassador continued his mission in Kuwait. This cannot be compared with Saudi Arabia's conduct regarding Iran. In addition to summoning its ambassador from Tehran, the Saudis expelled the Iranian ambassador. The United Arab Emirates, too, has not yet allowed ambassador exchange with Iran. Moreover, we should not forget that Kuwait is a member of the Persian Gulf Cooperation Council and does not want the Council to move toward extremism.
Is Kuwait trying to act as a Saudi liaison to reduce tensions with Iran?
Kuwait is trying to pave the way for détente, because tension harms every side including Saudi Arabia, Kuwait and in general the security and peace in the region. Therefore, Kuwait spares no effort to reduce the costs of tension and propel the region toward peace.
Is Kuwait's position among the Persian Gulf states significant enough for the country to be able to act as an intermediary?
Kuwait is a country with a long history and respected in Iran as well as Saudi Arabia. It is also a powerful country in financial terms and it has a better financial management in comparison with other Gulf states. This makes it less susceptible to Saudi Arabia. Therefore, it enjoys relative independence and acts more defiantly against Saudi pressures.
If Kuwait agree with Iran's conditions and solutions to resolve its issues with the Arab states and conveys them to Riyadh, will Saudi officials agree on the terms too?
The ground is not paved for talks at the moment. It should be provided. Furthermore, Iran is not concerned with conditions incorporated. The sides' concerns and solutions for their concern could only be brought up when talks already start.
*This article originally appeared in the Persian section of Iranian Diplomacy.