Saudi Crown Prince Is Brewing an Elaborate Plot against Iran
Here's why Iran should take fresh Saudi plots seriously, as explained in Khabar Online blog post written by Middle East expert Mohammad Ali Dastamli.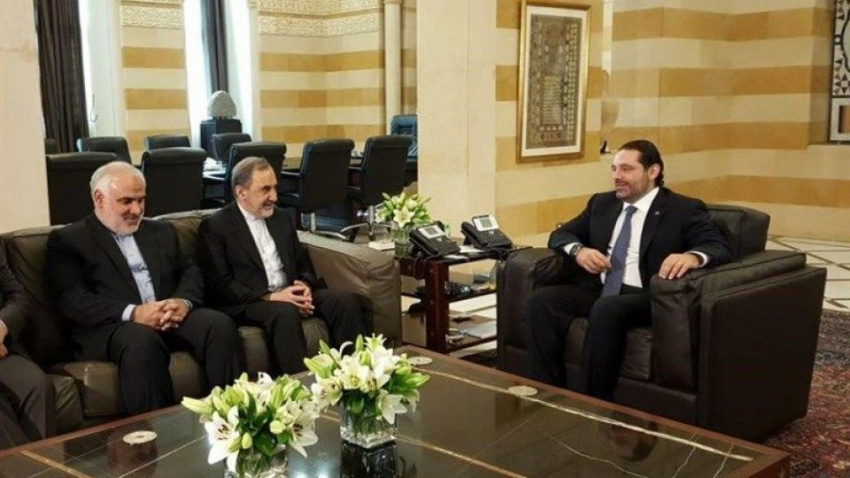 The Lebanese Prime Minister Saad Hariri's resignation is an important political incident, clearly linked to Tehran-Riyadh relations.
Hariri's resignation is an important development in the misty and interwoven equations of the Middle East. The Lebanese PM surprisingly announced his resignation on TV, a day after meeting former Iranian foreign minister Ali Akbar Velayati.
Some local news agencies in Iran have quoted a source close to Velayati as saying Hariri has told him on behalf of Riyadh that Iran must stop backing Yemen but Velayati has decline to accept. According to the source, Hariri immediately visited Riyadh afterwards and announced his resignation while bashing Iran.
Regardless of the credibility of the source and the question whether Velayati is Iran's senior negotiator in these issues, Hariri's move is significant per se is significant in terms of political semiotics and its link with Tehran-Riyadh relations.
Evidence indicate that Hariri's resignation is rather a predetermined scenario between him and the young Saudi Crown Prince Mohammad Bin Salman, rather than the result of an unsuccessful negotiation with Velayati. In other words, Hariri had decided to resign even prior to the meeting but probably wanted to indicate that his meeting with the senior international affairs advisor of the Iranian Supreme Leader could not change his mind, essentially making a statement that, unlike Hassan Nasrallah and other major figures of Hezbollah, he does not follow Iran's decisions, dictums, and demands.
Saudi Arabia, UNESCO's Education 2030 Document, and Iran
The rise to power of Mohammad Bin Salman as Saudi Crown Prince is a political turning point in the country's history, already started by two landmark events, i.e. Saudi Arabia's adaptation of the 2030 Document and invasion of Yemen. This took a quicker pace when Donald Trump took office in the US. Mohammad Bin Salman was received in the White House as a king and head of government. Other episodes like the Qatari crisis, the Yamama banquet, and the multi-hundred-billion-dollar contracts between Saudi Arabia and the US gave us the bigger picture. The resignation of the Lebanese PM should be viewed in the same spirit, linked to Saudi Arabia's goals, influence, and future interests. Mohammad Bin Salman is well aware that Iran, as a power player in the Middle East, is seriously against its regional and international policies. This opposition has cost Saudi Arabia dearly in Yemen, Iraq, and Syria and will continue to do so. However, the twin attacks on Saudi embassy and consulate buildings in Tehran and Mashhad has given a very important card to the young Crown Prince, who is practically the king and wants to block Iran's influence in every regional equation. He also want to direct Saudi Arabia to a path where Arab secularist and nationalist notions are promoted rather than the discourse of Wahhabism and Salafism, and attract other countries with money diplomacy and financial support. In this canny scenario, not only major player like Egypt and most members of the (Persian) Gulf Cooperation Council but also other Islamic countries such as Turkey, Indonesia, and Malaysia back Saudi Arabia. Of course, Mohammad's plan does not end up here. During the visit Haider al-Abadi and other Iraqi leaders made to Riyadh, efforts to convince Iran's allies was also put on agenda. On the other hand, relations between Russia and Saudi Arabia has entered a new dynamic phase after King Salman's Moscow visit, and the purchase of S400 missile defense systems. Therefore, the progressive scenario should be taken seriously, with a precise focus on the political, security, scientific, and economic objectives of the 2030 Document.
Riyadh wants to turn into a powerful, influential country and for doing so it is equipped with US support, financial means, and the power to impose pressure. This is the same path taken by Qatar, UAE, and Turkey in a different way. However, even with the seriously competitive aspects of Tehran-Ankara ties taken into account, none of these countries follows the same approach against Iran as Riyadh's. Saudi Arabia today is different from the Saudi Arabia of yesterday. The young Crown Prince is not only hostile to Iran but also determined to neutralize and weaken Iran with his scenarios and money.
Although it is optimistic to think of efforts to rebuild Tehran-Riyadh ties in the current state of affairs and it is inconsistent with the facts on the ground, this need to be underway. The media and propaganda war should stop and Iran should seriously pursue a strategy to strengthen ties with Islamic countries, particularly the Arab states. Tehran should not let Saudi media measures picture Iran as a country solely concerned with expanding Shiite influence.