Iran's Persian-Speaking Neighbor Leans toward Saudi Arabia
Saudi Arabia has recruited a Persian-speaking country, as Iran's grip over mutual ties loosened in recent years.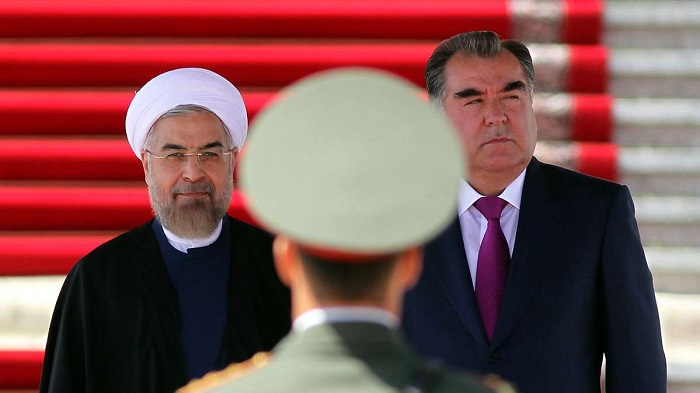 (Hassan Rouhani with Emomali Rahmon, in his only visit to Tajikistan during presidency in 2014. Source: Adel Bazyar/IRNA)
A series of developments in social, political, and economic fields have occurred in Iran-Tajikistan relations during the recent years, indicating a gradual coldness in mutual ties between two neighbors that enjoy a common rich background in terms of civilization, history, and culture. What strikes observers is the fact that the further Tajikistan drifts from Iran, the closer it moves towards Saudi Arabia, Iran's main rival in the region.
Last week, Tajikistan closed one of Iran's main cultural and trade centers in Sughd Region, north of the country. Evidence suggests that the center was closed due to pressure by senior Tajik officials. In the meantime, simultaneous efforts are underway in Tajikistan to ban the publication and promotion of works by founder of the Islamic Republic of Iran Ayatollah Khomeini, and other Iranian scholars.
Iran's cultural center in Khujand, capital of the Sughd region, known more than anything for its rich library accessible online, supported local writers in the publication and promoted authorized works regarding Iran and life in Iran for the Tajik youth.
Tajik officials have decline to comment about the issue but it is only one episode of serial events that have taken place in recent years, widening the gap between Tehran and Dushanbe.
Under the Ahmadinejad administration, when mutual ties were at their apex, the Iranian president paid visits to Tajikistan almost every year. However, ever since he took office in 2013, Hassan Rouhani has only visited Dushanbe once in 2014, to participate in the Shanghai Cooperation Organization (SCO) summit.
A bone of contention that has resulted in cold relations between the two Persian-speaking countries is the assets of Iranian tycoon Babak Zanjani, who once ran a large business involved in a range of sectors from banking and airlines to taxi services and bus terminals. Once Zanjani faced litigation from Iran's Petroleum Ministry over his activities during the sanctions era, evidence indicated that he had deposited most of his assets in the National Bank of Tajikistan. Dushanbe strongly denied the allegations. Zanjani's assets in Tajikistan were soon confiscated, infuriating Iran.
A separate episode came in December 2015 when Tehran hosted Muhiddin Kabiri, the leader of Islamic Renaissance Party of Tajikistan, an opposition party, in the 29th edition of the Islamic Unity Conference. The party had been accused of coup attempts in Tajikistan, an allegation Kabiri denies. Kabiri's Tehran visit sparked an official protest note by the Tajik Foreign Ministry. It was later that the Tajik customs imposed a series of restrictions on the import of Iranian commodities, banning among others, imports of tea and poultry from Iran, on the pretext of low quality. In July 2016, Tajikistan shut down the bureau of Iran's Imam Khomeini Relief Foundation.
While the Tajik foreign ministry continues to facilitate visa issuance for foreign nationals in its airports, Iran is placed among countries like Afghanistan, Iraq, and Syria whose nationals are excluded from the facilitation list.
More interesting is that fact that Tajikistan is enthusiastically building with Saudi Arabia whatever it ruined with Iran. This could be seen more specifically in financial supports. Only in May, Saudi Arabia allocated more than $35m to build thirty schools and educational centers in different provinces of Tajikistan. Saudi Arabia is also pursuing economic investments in Tajikistan. The two country are in talks for Saudi investment in one of the largest dam projects in Tajikistan. One of the consequences of Tajikistan's rapprochement with Saudi Arabia can be very well seen in summits and workgroups of the Shanghai Cooperation Organization, where Tajikistan is actively opposing Iran's membership.
There could be more in the future.
* The article above was originally published in Persian on the Principlist website Tabnak, affiliated with former IRGC commander Mohsen Rezaei.